2024 Honda Pilot in Pittsburg CA

View Inventory
Introducing the remarkable 2024 Honda Pilot, a true embodiment of style, innovation, and performance. This exceptional SUV sets new standards in the automotive world, captivating hearts with its sleek design, advanced features, and robust capabilities. The Honda 2024 Pilot is available at Winter Honda, your trusted dealership serving Pittsburg Antioch Concord Walnut Creek. With a starting price per manufacturer for the base model, the Honda 2024 Pilot presents an incredible value for its impressive features.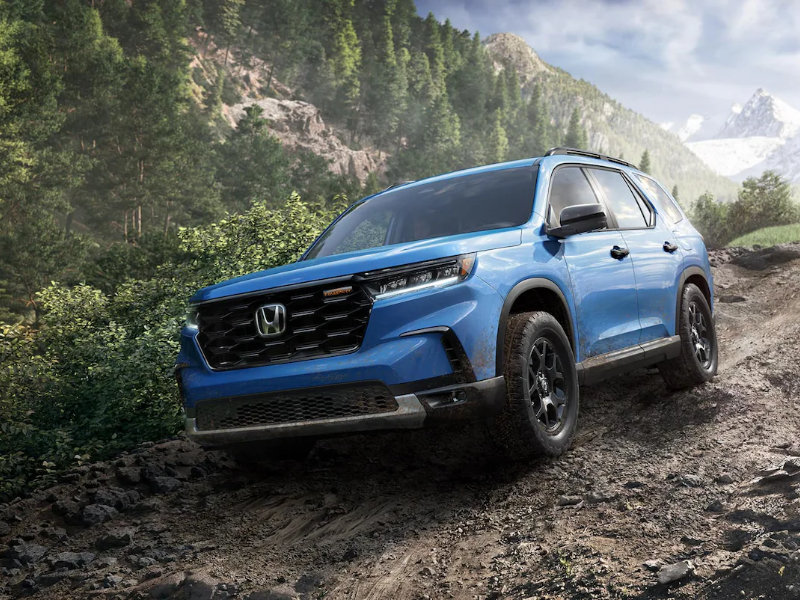 Exterior - Honda Dealer serving Pittsburg CA
The 2024 Honda Pilot in Pittsburg, CA, boasts a commanding presence on the roads of this vibrant city. Its exterior design seamlessly blends modernity with functionality, catering to the diverse needs of Pittsburg, and serving Pittsburg Antioch Concord Walnut Creek residents. The robust silhouette of the Honda 2024 Pilot exudes strength, making it a suitable companion for urban adventures and beyond. Standing proudly at the crossroads of innovation and style, the Honda 2024 Pilot in Pittsburg showcases distinct elements that resonate with drivers' preferences from Pittsburg, Antioch, Concord, and Walnut Creek. The dynamic front grille, adorned with the Honda emblem, creates an immediate impression of sophistication, while the sleek lines that stretch along the body highlight its aerodynamic prowess.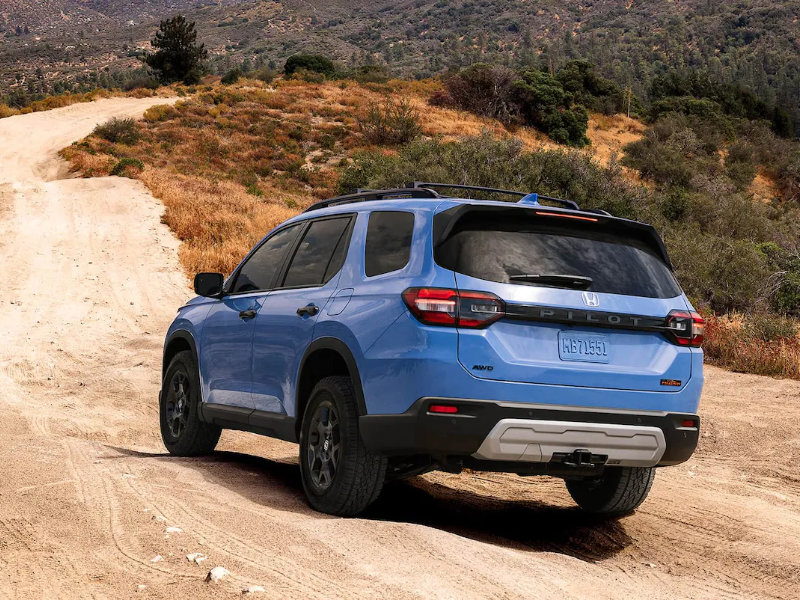 Step into the refined world of the 2024 Honda Pilot in Pittsburg and experience a captivating blend of luxurious comfort and cutting-edge innovation. Designed to cater to the diverse needs of drivers in Pittsburg, Antioch, Concord, and Walnut Creek, the interior of the Honda 2024 Pilot is a testament to Honda's commitment to excellence. As you settle into the driver's seat, you're embraced by premium materials and meticulous craftsmanship that redefine what comfort means on the road. The spacious cabin offers ample room for passengers and cargo, making every journey a delightful experience. The 2024 Honda Pilot's interior isn't just about space – it's about creating a haven of relaxation to immerse yourself in the surrounding beauty of Pittsburg and its neighboring areas.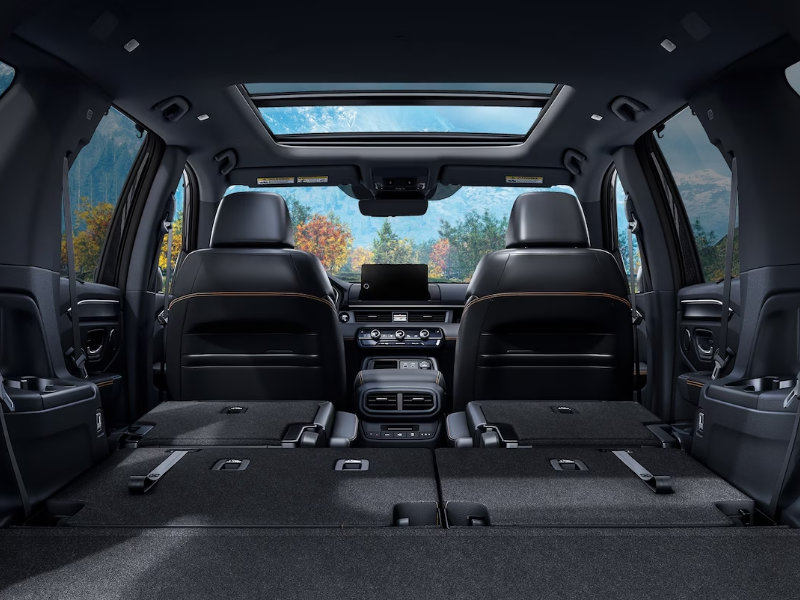 Honda Pilot Mechanical specs
Crafted with precision engineering, the Honda 2024 Pilot delivers a driving experience that is second to none. Its responsive handling and smooth ride result from meticulous engineering and cutting-edge suspension systems. The vehicle's agile maneuverability makes navigating urban landscapes a breeze, while its robust build ensures confidence and stability, even on challenging terrains.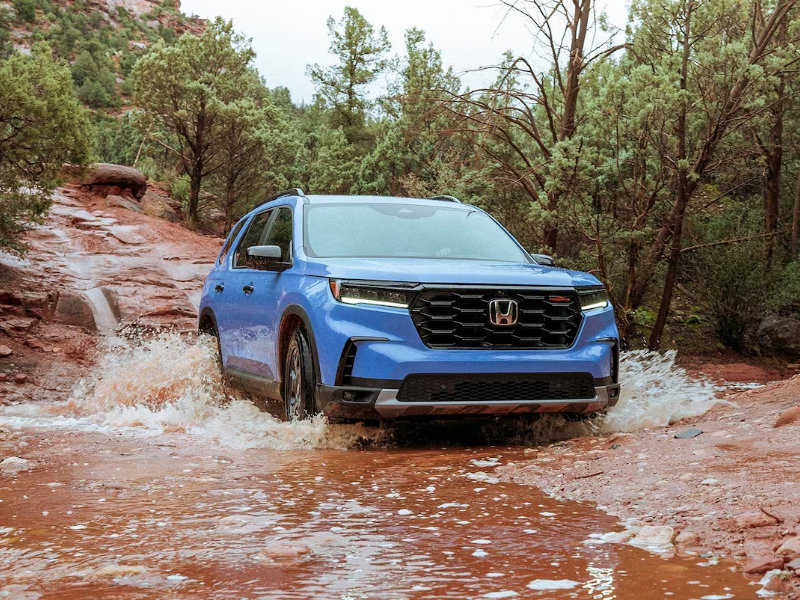 Powertrain - Honda Dealership in Pittsburg CA
Under the hood, the 2024 Honda Pilot Pilot houses a potent powertrain that blends efficiency and performance seamlessly. With an emphasis on fuel economy without compromising power, this SUV can take on daily commutes and long journeys. The powertrain's advanced technology optimizes performance and reduces emissions, contributing to a more sustainable driving experience.
Safety - 2024 Honda Pilot dealer
The Honda 2024 Pilot embodies exceptional safety, serving Pittsburg Antioch Concord Walnut Creek. The advanced safety features of the Honda 2024 Pilot ensure peace of mind for drivers in Pittsburg and neighboring areas. With its innovative safety suite, the Honda 2024 Pilot prioritizes the security of occupants on roads stretching from Pittsburg to Antioch, Concord, and Walnut Creek. This model integrates cutting-edge technologies, making it a reliable choice for families in Pittsburg, CA. The 2024 Honda Pilot's safety enhancements cater to the specific needs of Pittsburg residents, extending to nearby Antioch, Concord, and Walnut Creek. Embracing the Honda 2024 Pilot means embracing a secure driving experience tailored to Pittsburg's streets and beyond, ensuring the utmost safety for families and commuters.
Intrigued by the exceptional Honda 2024 Pilot? Winter Honda is your gateway to experiencing this remarkable SUV firsthand if you're in the Pittsburg, CA, area. Our knowledgeable and friendly team is eager to provide you with all the information you need to make an informed decision. Take advantage of the opportunity to explore the 2024 Honda Pilot's features, comfort, and performance. Contact Winter Honda today and embark on a journey that promises luxury, innovation, and unrivalled driving pleasure.
2024 Honda Pilot Trim Levels in Pittsburg CA
People usually think of the Honda Pilot as a tough family SUV, but they sometimes forget just how tough this SUV is. At 285 horsepower and with 5,000 pounds of max towing capacity, a Pilot is ideal for weekends spent in the beautiful outdoors, too. There are some trims specialized for off-road settings and other heavier lifting. Winter Honda helps all our customers customize their dream Pilot. It all starts with picking a great trim level.
LX Trim
What makes all 2024 Honda Pilot trim levels in Pittsburg a true dream buy is the powerful 285-horsepower V6 engine that comes with every single trim. This engine is joined by a 10-speed automatic transmission and a 5-mode drive system with ECON, Normal, Snow, Sport, and Tow modes. An LX exterior also comes with 18-inch alloy wheels and all-season tires, plus full LED headlamps with excellent lighting. The LX has a comfortable interior with tri-zone automatic climate control and one-touch second-row seating. Honda gives everyone the power of music, too. Thanks to its 7-speaker 240-watt audio system, you'll get good use out of the interior's 7-inch color touchscreen. Port your favorite smartphone playlists over directly to the LX's touchscreen through standard Apple CarPlay or Android Auto.
Sport Trim
The Sport trim is for those who love to live life like it's a day at the track. Exterior utility is enhanced with 20-inch alloy wheels, LED fog lamps, and a nice set of roof rails that handle taller cargo, camping gear, and any other gear you might need to bring along in an adventurous life. The interior gets upgrades like a hidden storage well and heated front seats. The Sport and all other 2024 Honda Pilot trim levels are also valuable to our Winter Honda customers because of their excellent Honda Sensing technologies. Features like Collision Mitigation Braking, Blind Spot Information, and Adaptive Cruise Control with Low-Speed Follow are all a part of your family journey. They give you ultimate control over your driving maneuvers and warn you if there's danger ahead (or behind or to the sides).
EX-L Trim
The EX-L adds capability features like i-VTM4 all-wheel drive, a power tailgate, and leather-trimmed seats. Leather interiors enhance the travel experience in a big way. The model's 245-watt audio system is another reason to choose the EX-L trim out of all our 2024 Honda Pilot trim levels in Pittsburg. Honda does a great job of installing modern technology into the EX-L. They add a CabinTalk In-Car PA system, 9-inch color touchscreen infotainment system, and convenient to use wireless phone charger. If you're tired of driving with five sets of USB cables along for the ride, a wireless device charger is an amazing add-on and is standard in the EX-L trim.
TrailSport Trim
It was only a matter of time until Honda added an off-road themed model to the Pilot's menu. The TrailSport is the off-roader of our 2024 Honda Pilot trim levels, and it picks up amazing features like Hill Descent Control, skid plates, and recovery points. Even more exciting, this model adds durable synthetic leather seating with orange contrast stitching. This high-quality stitching adds true excitement to the interior and increases its value. Enhanced safety technologies like parking sensors and a multi-angle rearview camera are big help to a Pilot driver. Not everyone wants an off-roader as their family SUV, but the TrailSport is a family SUV first and an off-roader whenever you need it to be. Its versatility makes it a very valuable trim level and a popular trim at our Pittsburg dealership.
Other Trims: Touring, Elite. There's even more to discover in our 2024 Honda Pilot trim levels. Don't forget to research these two trims with one of our sales associates. They can also help you pick up a test drive of any trim.
Request More Information
Contact Winter Honda to learn more about all 2024 Honda Pilot trim levels in Pittsburg. We love to talk about Honda's SUVs, save customers money, and make customers happy. You can reach us online or at the dealership.