2024 Honda HR-V vs 2023 Nissan Kicks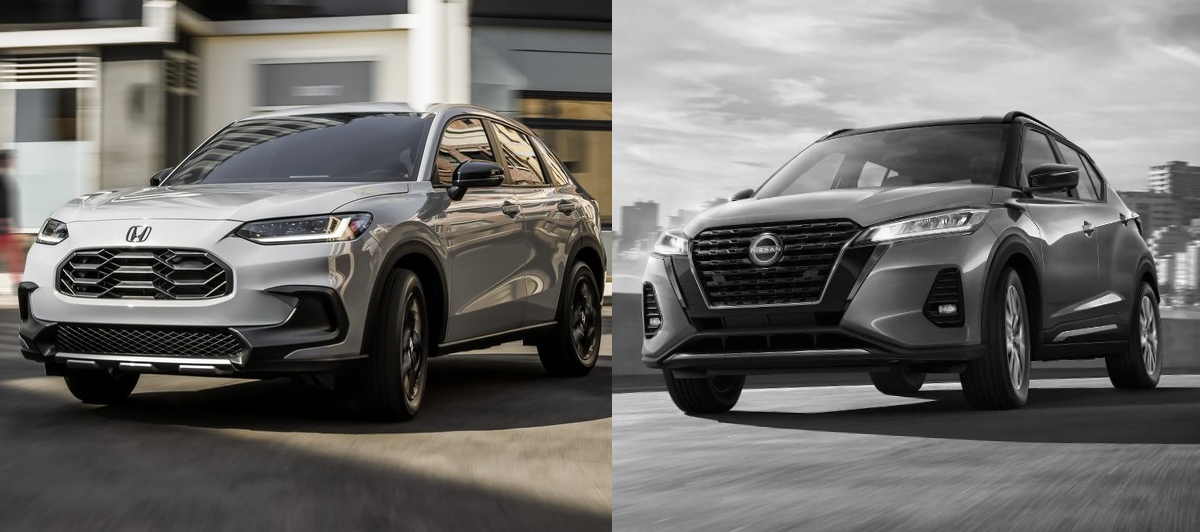 View Inventory
The team at Winter Honda is thrilled to announce that the new Honda HR-V has arrived. The HR-V is the standard for subcompact crossover SUVs and has become increasingly popular as more and more drivers opt for a vehicle that is practical, affordable and fuel efficient. Honda premiered the second-generation HR-V last model year, and while there are no major changes for the 2024 model, it does have a number of refinements that make it an even more compelling choice. To demonstrate that, let's compare the 2024 Honda HR-V vs 2023 Nissan Kicks, which is a top competitor to Honda's smallest SUV.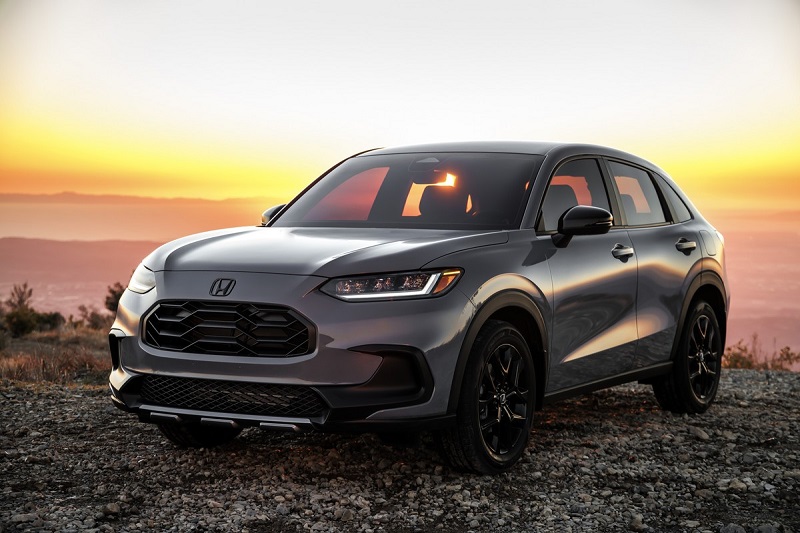 Exterior - Honda Dealer serving Concord CA
The 2024 Honda HR-V and 2023 Nissan Kicks are both the smallest SUVs that their respective brands make, but the HR-V is a bit bigger overall. It has a 104.5-inch wheelbase, a minimum ground clearance of either 6.7 or 7.4 inches and 179.8-inch length, which is just shy of 15 feet. The Kicks, on the other hand, has a 103.1-inch wheelbase, a 7.0-inch minimum ground clearance and a 169.1-inch length. Both automakers take a similar approach with trim levels in that they offer three core trim levels. The options for the Honda are the base LX, up-level Sport and top-spec EX-L. The Nissan analogs are the S, SV and SR. Aluminum wheels are standard with the HR-V, and Honda offers 17- and 18-inch wheels. Sixteen-inch steel wheels with wheel covers are standard with the Nissan, and 17-inch alloy wheels are optional.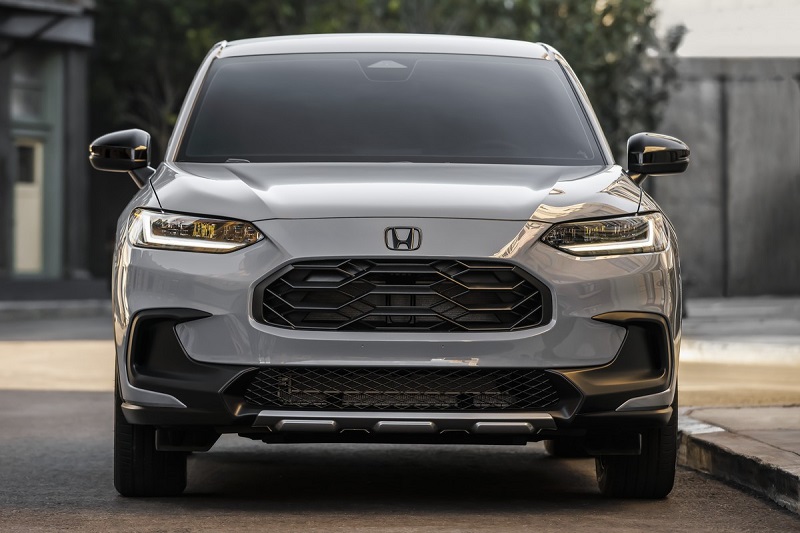 The HR-V and Kicks are both five-passenger vehicles. Dedicated cargo space and headroom in both rows are comparable, and legroom is where the notable differences lie. Nissan provides 43.7 inches of front legroom compared to 41.9 inches in the HR-V. That is impressive for the segment and best in class. But it comes at the sacrifice of rear legroom, and the Honda is plenty roomy for most drivers. The HR-V gives you 37.7 inches of rear legroom, which is best in class and means that you can actually accommodate adults in the rear seat. The Kicks provides just 33.5 inches. You can fit an adult or two back there, but it's going to be a cramped and uncomfortable experience during all but the shortest of trips.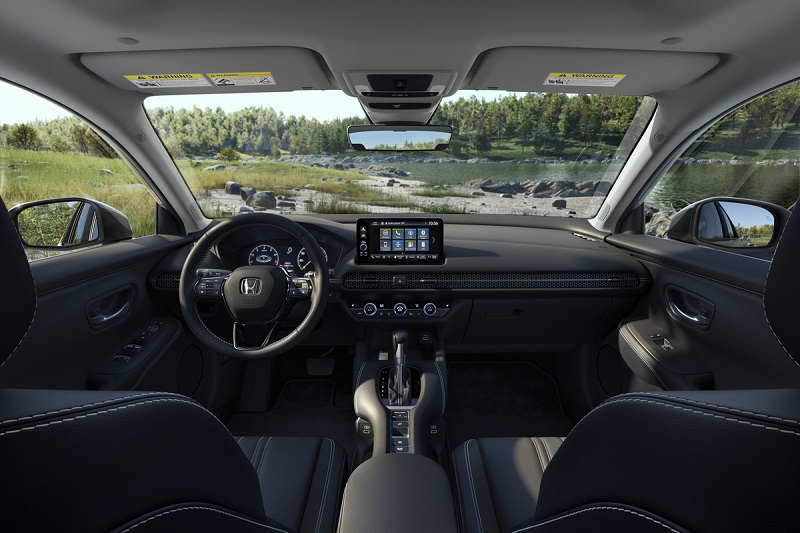 Honda HR-V Mechanical specs
The 2023 Nissan Kicks is offered exclusively as a front-wheel-drive vehicle. The 2024 Honda HR-V is front-wheel drive as well but offers all-wheel drive as an option with all trim levels. Both automakers opt for a continuously variable transmission. The differences in engine are notable. Honda has chosen a 2.0-liter four-cylinder that makes 158 horsepower and 138 pound-feet of torque. Nissan has selected a 1.6-liter four-cylinder that makes 122 horsepower and 114 pound-feet of torque. The differences in acceleration are significant, and while there are fuel performance benefits, they aren't massive. Nissan also opts for a small 10.8-gallon fuel tank as opposed to the 14-gallon tank in the Honda, which means you'll be filling up more often.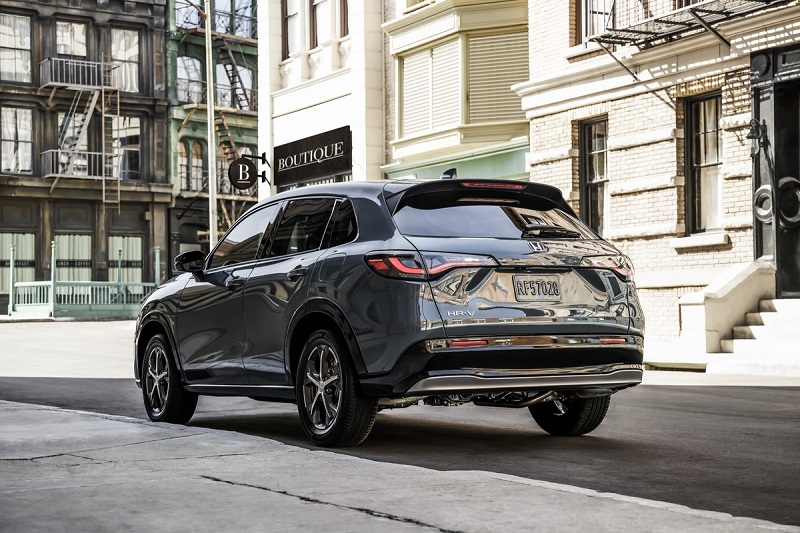 Technology - 2024 Honda HR-V
Both Honda and Nissan include a 7-inch touch screen standard with all the bells and whistles modern drivers expect. Honda offers a 9-inch screen as an option. Nissan offers an 8-inch screen. The Honda Sensing suite of advanced driver-assistance technologies is standard. Nissan also includes its Safety Shield 360 suite as standard equipment. These packages are comparable for the most part. Honda does require you to move up a trim level for blind-spot monitoring whereas Nissan requires you to do the same for adaptive cruise control.
If you have any additional questions about the 2024 Honda HR-V vs 2023 Nissan Kicks, call or email Winter Honda. Our team can also discuss current brand incentives and dealer specials, discuss finance and lease options, provide custom quotes and much more. You can also shop with us online, and if you want to test-drive the HR-V, no appointment is needed. Just visit us at your convenience.
* This article is intended for informational purposes. Please contact the dealership for the most complete and accurate details.