2024 Honda Civic Sedan in Pittsburg CA

View Inventory
Introducing 2024 Honda Civic Sedan in Pittsburg, a masterpiece of automotive engineering that seamlessly combines style, innovation, and performance. This latest iteration of the beloved Civic boasts impressive features, making it a standout choice for drivers in Pittsburg, CA, and beyond. The 2024 Civic Sedan promises an unparalleled driving experience that elevates every journey with its cutting-edge design, advanced technology, and remarkable safety enhancements. Serving Pittsburg Antioch Concord Walnut Creek, we are your trusted destination for exceptional vehicles, providing an unmatched opportunity to experience this Honda Civic Sedan firsthand.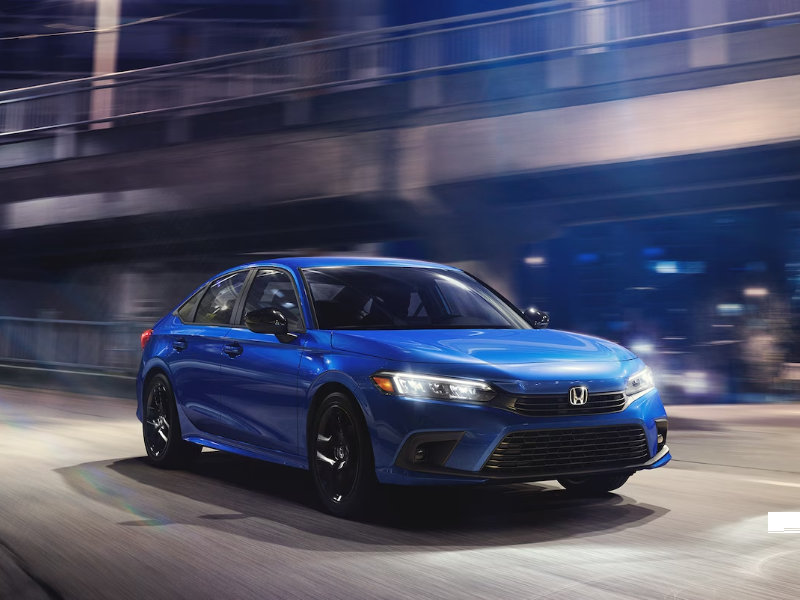 Exterior - Honda Dealer serving Pittsburg CA
The 2024 Honda Civic Sedan's exterior design speaks volumes about its sleek elegance and dynamic prowess. Crafted with meticulous attention to detail, its aerodynamic profile and bold front grille radiate confidence and sophistication. The road ahead is brilliantly illuminated by the LED headlights, enhancing visibility and making a striking visual statement. Beyond its aesthetic appeal, the carefully sculpted body serves a functional purpose, enhancing the vehicle's aesthetics and fuel efficiency. Every contour and curve has been purposefully designed, seamlessly uniting form and function to create a true masterpiece on wheels that commands attention on every street corner.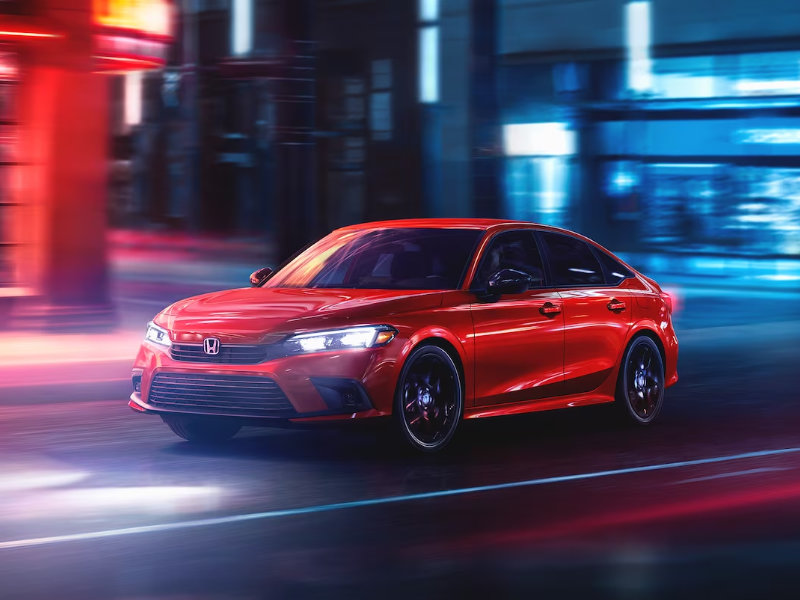 Step inside the new Honda Civic Sedan and immerse yourself in refined comfort and intelligent design. The spacious interior showcases meticulous craftsmanship with premium materials that create an inviting atmosphere. From the ergonomic layout of the controls to the available luxurious leather-trimmed seats, every detail has been thoughtfully considered to ensure an unparalleled driving experience. Modern amenities abound, including an intuitive touchscreen infotainment system that seamlessly integrates with your smartphone for a seamless connectivity experience. Whether commuting through Pittsburg or going on a road trip, the 2024 Civic Sedan's interior provides an oasis of comfort and convenience.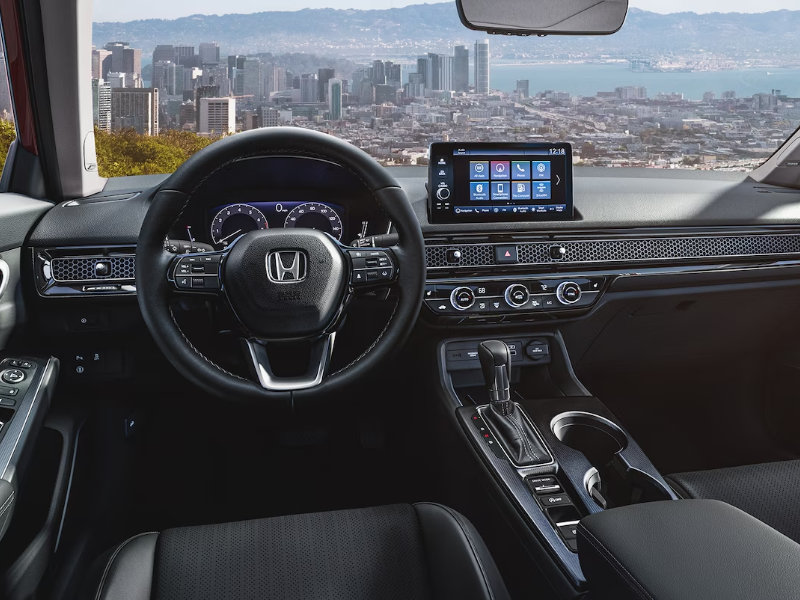 Honda Civic Sedan Mechanical specs
Beneath the 2024 Honda Civic Sedan hood lies a marriage of precision engineering and performance excellence. The sedan's advanced suspension system ensures a composed and smooth ride, whether navigating bustling city streets or cruising on open highways. The steering's responsive nature contributes to an engaging and nimble driving experience, enabling you to easily glide through tight corners and navigate busy intersections. Winter Honda's unwavering commitment to excellence resonates in every facet of the Civic Sedan's mechanical design, instilling drivers with a heightened level of confidence that transcends the ordinary. This mechanical finesse is a testament to Winter Honda's dedication to delivering a vehicle and an elevated driving experience that brings joy to every mile.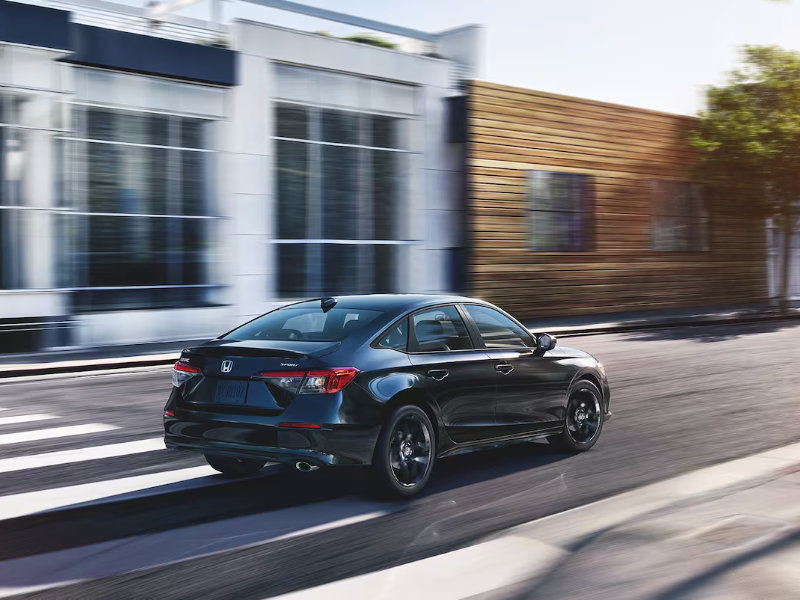 Powertrain - Honda Dealership in Pittsburg CA
Experience exhilarating power and fuel efficiency with the 2024 Honda Civic Sedan's cutting-edge powertrain options. From the zippy acceleration of the base engine to the impressive fuel economy ratings, this sedan strikes the perfect balance between performance and practicality. The available transmissions offer seamless shifts, contributing to the car's effortless and enjoyable driving dynamics. Whether you're embarking on a daily commute or a weekend adventure, the Civic Sedan's powertrain delivers an exceptional driving experience every time you hit the road.
Safety - 2024 Honda Civic Sedan dealer
Safety is paramount in the new Honda Civic Sedan, exemplifying Honda's unwavering commitment to driver and passenger well-being. Equipped with a comprehensive suite of advanced safety features, including collision mitigation, adaptive cruise control, and lane-keeping assistance, the Civic Sedan actively works to prevent accidents and enhance driver awareness. The robust safety structure and many airbags ensure that you and your passengers are protected from every angle. When you're behind the wheel of the 2024 Civic Sedan, you can drive confidently, knowing that your safety is a top priority.
Discover the world of elegance, performance, and innovation with the 2024 Honda Civic Sedan. As your premier Honda dealership serving Pittsburg, Antioch, Concord, and Walnut Creek, Winter Honda is excited to introduce you to this exceptional vehicle. Serving Pittsburg Antioch Concord Walnut Creek, contact our knowledgeable team to learn more about the features, pricing, and availability of the new Civic Sedan. Elevate your driving experience and make every journey memorable with this remarkable sedan. Contact Winter Honda today to embark on a new chapter of driving excellence.
2024 Honda Civic Sedan Trim Levels in Pittsburg CA
There are many compact sedans on the market, but very few have had the same impact as the Honda Civic. Honda's Civic is a classic in its segment and continues to provide joy to drivers everywhere. Winter Honda reviews 2024 Honda Civic Sedan trim levels in Pittsburg today because we want our Pittsburg customers to pick the right Civic for themselves. There's only one Civic, but it's available in four different forms.
LX Trim
The refreshing 2024 Civic base model is packed with energetic performance, fun interior tech, and Honda Sensing driver-assistive features. Its 4-cylinder engine is rated at 158 horsepower and 158 lb-ft of torque. The exterior styling this year gets enhanced visuals with sharp LED headlamps with auto on/off, body-color door handles, and body-colored power side mirrors. Practicality is important in small sedans, and the Civic gets it in a big way. Enjoy an automatic climate control system, a large center console with a storage compartment, and push-button start.
Sport Trim
Honda wanted all 2024 Honda Civic Sedan trim levels to deliver fun, but the Sport might just capture that "fun" theme better than any trim. If you want a sedan with upbeat vibes, this one brings its A-game. The exterior adds gloss-black body-colored side mirrors and a chrome exhaust finisher for extra sportiness. It adds extra speakers to the 180-watt standard audio system so that the entire cabin gets a full musical experience. A 7-inch color touchscreen and 7-inch driver information display is also a big boost to the Sport's interior. Honda Sensing features like lane keeping assist, adaptive cruise control with low-speed follow, and traffic sign recognition all provide an excellent sense of security to the Sport's driver.
EX Trim
Honda's additions to the EX make it one of our most popular 2024 Honda Civic Sedan trim levels in Pittsburg. They give the interior a rear-seat center armrest and heated front seats for extra comfort. Dual-zone automatic climate control is also a boost to the cabin. A One-Touch power moonroof doubles as both an interior and exterior feature and gives everyone fresh air and a beautiful view when they need it. The EX is important because it adds driver-assist features as well. Its Blind Spot Information System and Driver Attention Monitor make the model well worth the purchase at Winter Honda.
Touring Trim
The Touring is the most fully loaded of all 2024 Honda Civic Sedan trim levels, and it's one that will go home with a lot of our customers this year. Its hype is justified. A Touring Civic offers leather-trimmed seats, a 9-inch touchscreen infotainment system, and a 12-speaker Bose premium sound system to the Civic's cabin. It's also the only Civic trim this year to offer a wireless phone charger, something that many modern travelers demand. The Touring's driver-assist lineup adds critical safety features like parking sensors and a rear cross traffic monitor. These additions alone make many people choose the Touring from our dealership. It may or may not be the right trim for you, but we believe it's worth a look!
Request More Information
Test drive all 2024 Honda Civic Sedan trim levels in Pittsburg by calling Winter Honda to schedule. We'll let you know the happy day this popular compact sedan arrives. You can also contact our online customer service team to learn more about the 2024 Civic sedan.